Making sure your building or facility is ADA compliant is important now more than ever. As a property owner or facility manager, becoming compliant with ADA regulations could save considerable time & money, while ignoring regulations could result in a heavy lawsuit. Read below for our guide on accessible design & how to ensure your facility is ADA Compliant:
What is the ADA?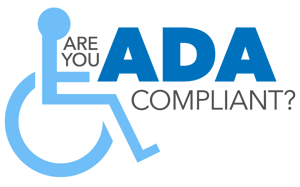 According to the United States Access Board, The Americans with Disabilities Act (ADA) ensures access to the built environment for people with disabilities. It was passed by the federal government in 1990 to accommodate individuals with disabilities in all public aspects. The ADA Standards establish design requirements for the construction and alteration of facilities subject to the law. These enforceable standards apply to places of public accommodation, commercial facilities, and state and local government facilities.
It's important to note that even though the ADA was passed in 1990, it wasn't until more recently in 2012 that stricter requirements were enacted for public facilities to comply with.
Making Your Facility Accessible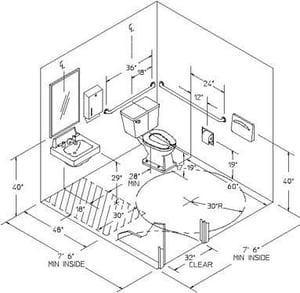 It's never too early to renovate your facility to accommodate those with disabilities to meet ADA compliance. Becoming educated on
what the ADA is
and how it relates to your facility is crucial to avoiding costly lawsuits. In fact, in 2016 alone, there were more than 6,500 lawsuits towards commercial properties that failed to meet ADA compliance. The good news for facility owners is that there are surveys that serve to check up on the health of your building or facility in relations to the ADA. You might also want to consider hiring a
CAPS certified specialist
to assist you with making educated decisions on which renovations need to be made to your building. They will be able to take an in-depth look at each space in the building to determine any risks to the owner's liability.
One costly mistake many building owners make is the misconception that if their building was built before the ADA's passing in 1992, they are grandfathered in and exempt from complying with standards. This is not true and will likely end up with your facility facing a lawsuit if not renovated and kept up to date.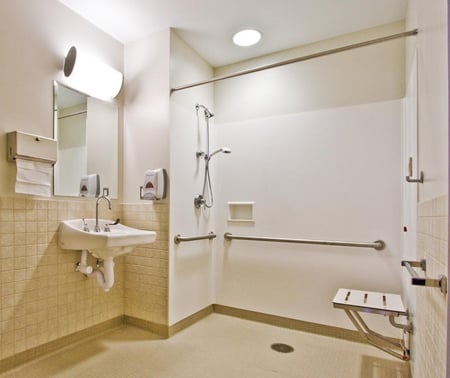 In order to make your facility "accessible" there are a few key elements to consider. For interior renovations, these elements consist of doors, pounds of pressure required to operate the door, proper signage, accessible drinking fountains, and easy to reach restrooms. For exterior renovations, accessibility includes elements such adding an "off-site" path to the public sidewalk, disabled parking, curb ramps, ect. Some other required steps to consider are to widen doorways to the facility to allow for wheelchair access, remodeling restrooms for disabled guests, adding
bathroom grab bars
, and adding access ramps for wheelchair users to bypass stairs.
As a matter of fact, hotels have been at the highest risk of facing an ADA Title III lawsuit. Maintaining an up-to-date ADA checklist and providing proper training to staff is highly recommended to avoid any potential lawsuits. Below is a list of steps provided by
Facility Executive
that a hotel owner may need to take to meet ADA compliance requirements and make rooms and public spaces more accessible:
Upgrading public and company restrooms to comply with ADA standards
Widening door frames and installing accessible hardware on doors
Adjusting water fountains
Replacing problematic flooring
Adding railings or grab bars in appropriate locations
Creating or improving accessible parking
Installing ramps or creating curb cuts at entrances
Rearranging furniture and other features to reduce barriers to service
Many people with disabilities are deciding to live independently and remodel their homes for aging in place. It is estimated that by the year 2030, there will be over 71 million baby boomers that are over the age of 65 and in need of accessible accommodations in public facilities.
Let
CSI Bathware
be your solution when considering remodeling your facilities restrooms to meet ADA standards.
Our huge selection of high-quality, ADA compliant grab bars, seats and shower accessories are designed with functionality and safety in mind and
meet the needs of the everyday user and contractors alike.
Be sure to get in touch with us via social media and sign up for our newsletter to stay up to date on more helpful content relating to ADA compliant bathware and aging in place.