Are you worried about you or a loved one slipping & falling in the bathroom? When considering a home modification, upgrade, or remodel to ensure your ability to Age-in-Place, there are three main priorities that should be given consideration –
total accessibility, safety, and convenience.
Most bathroom design solutions include replacing the tub with a roll-in shower, as well as installing a comfort height toilet, new flooring, new vanity, and grab bars or shower seats. However, when choosing the components for any bathroom project, consideration should be given to these three main priorities:
Total Accessibility
Removing the tub adjacent to the toilet can provide space for safer transfers and creates room for additional grab bar installation. Having the option to easily move into the shower area is crucial especially for wheelchair users with limited to no mobility. The curbless shower option can be extended past the toilet to create a larger wet zone and maneuvering space while also eliminating the need for a shower door or curtain. It's also important to make sure that there is an open path to the bathroom with clear lighting day and night.
Safety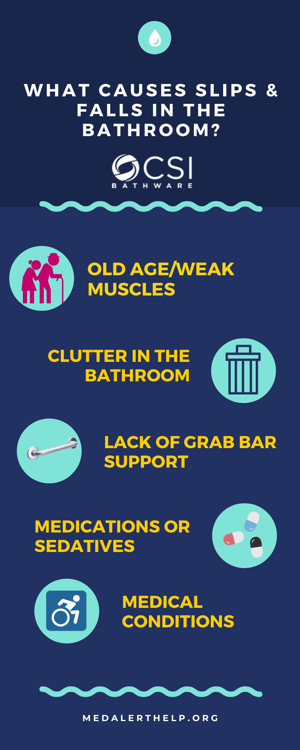 Creating an open, less congested floor space featuring a large curbless shower reduces the risk of injury by eliminating tripping hazards. You can anticipate the addition of grab bars to your bathroom by remodeling with structural in-wall support and shower wall blocking. Grab bars will serve to provide support in your shower to help prevent slips & falls. They can be installed exactly where it's most helpful (typically next to the tub or in the shower), can usually be installed easily with no tools, and can be removed easily. You should also add a
shower chair
to further reduce the risk of injury by allowing reinforced safety devices to be installed with proper support.
Convenience
The addition of a hand-held shower and a shower slide bar provides a safe shower area that is adjustable for all users in the home while the push button feature fosters water economy and convenience for caregivers. You can also consider a ground fault circuit interrupter (GFCI) outlet installed near the toilet which will allow for installation of a washlet seat for personal hygiene.
Because so many modifications are typically needed and budgets are limited, creating design solutions that allow us to age gracefully in our home require significant planning and prioritization from the homeowner, family or caregivers. It's also important that you seek assistance from the design team for the aging in place project at hand. Solutions that address safety and personal hygiene are generally given first priority.
Be sure to get in touch with us via social media and sign up for our newsletter to stay up to date on more helpful content relating to ADA compliant bathware and aging in place.