We recently conducted an interview with Alex Avakian of
3 Birds Accessibility Solutions
to ask him about founding a successful accessibility-minded business, his experience, and where he sees the industry going in the future.
1. We wanted to say congratulations on the success of your business! Could you tell us a little more about your company and mission?
"Construction is an emotional process."
This is a quote from an elder of mine, Ed "3 Birds" Brown, which I really connected with when I heard. Having strangers come in your house and rip out your bathtub can be really stressful. But there is ways to mitigate that like having clear communication from day 1. We're also not your typical hillbilly contractors which I think puts people at ease when they meet us. We're intelligent, hard working guys who enjoy our work, and we always bring good energy to the job site which goes a long way. And that's really what drives the business forward and has helped us become so successful.
2. For our readers that may not follow you on social media and know your story, why is accessibility your design focus?
Before accessibility I was doing luxury house flips. We built these incredible houses that were straight out of a magazine but could take up to a year to finish. I made good money but ultimately - I hated it. Accessibility is so special that you can change someone's life in an afternoon. That makes it not feel like work. It's just helping people and I love that.
3. What can you tell us about the importance of accessible design in the bathroom?
Coming from a design background I have a deep understanding of how much aesthetics and function can influence someone's mental state. When we modify the home for accessibility we are removing physical obstacles sure, but we're also removing mental obstacles that might be preventing someone from being HAPPY… Stack that effect into days, weeks, years… we're changing people's inner world… do not underestimate that…
4. What design elements should be considered when renovating or designing a bathroom for accessible living?
Inches matter. For example, 3 inches might be too high for someone to lift their leg. I've definitely held a tape measure up to little old ladies' feet while they raise them - and that's the difference between a roll-in shower and walk-in shower. Gotta sweat those details.
5. In regards to accessible and universal design, what are some current trends you have been seeing?
I'm noticing manufactures acknowledge the needs of people more with things like accessible appliances. Products are also becoming more affordable with mass production for an aging population which I appreciate. There is one major product that the market is missing which I am actually working on creating now… ;)
6. When did you first hear about CSI Bathware and what would you say is most important in terms of style, quality, and accessibility of products when specifying or recommending to a client?
I had been ordering CSI products off of Amazon for a while and one day I needed some specialty parts and I looked them up. I had a really nice conversation with Leigh and then built a relationship with the company. We forget too often in this day and age that there are humans on the other side of a website working hard to get you what you need. I appreciate being able to work closely with you guys. It really adds a nice touch and it has allowed me to grow my business.
7. What would you say most architects, interior designers, or specifiers, overlook in most accessible design projects.
I think that most people just aren't aware of the limitations that certain people face every day. I wasn't until I took care of my grandpa, the great jazz producer George Avakian, who passed at 98. Now that I know, I consider it a great honor to use that knowledge to create the right spaces for wonderful people.
8. Where do you think the world of accessible design should be in the next 10-15 years?
My hope is that it becomes even friendlier and more affordable. As my generation (I'm 33) starts to take care of our parents more, I think you will see technology and innovation accelerate quite a bit to make accessibility that much easier to achieve for those who need it. And I am looking forward to participating in that.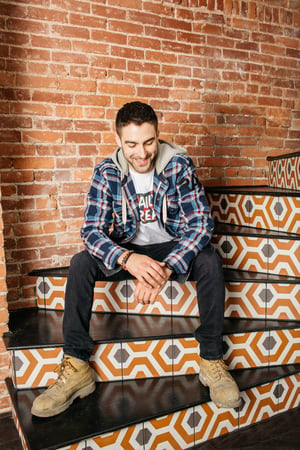 For more information on Alex Avakian and his company 3 Birds Accessibility Solutions, be sure to check out his website to get his full story and follow him on instagram @3BirdsAS
Also be sure to get in touch with us via social media and sign up for our newsletter to stay up to date on more helpful content relating to ADA compliant bathware and aging in place.