Did you know that according to the NCOA (National Council on Aging), every 11 seconds a senior is taken to the emergency room for a fall-related injury? Falls - especially those in the bathroom - are among the leading cause of injuries among seniors over the age of 65. Continue reading for 5 tips on how you can prevent slips & falls in your bathroom.

Modify your Bathroom
Research studies conducted by the NCOA have shown that one out of four people age 65+ falls each year. 20% of falls cause a serious injury such as hip fractures or broken bones. Furthermore, falls, with or without injury, can result in loss of mobility, independence, and quality of life. Modifying your home for aging in place can help ensure you have the proper safety measures prepared to minimize your risk of slips & falls.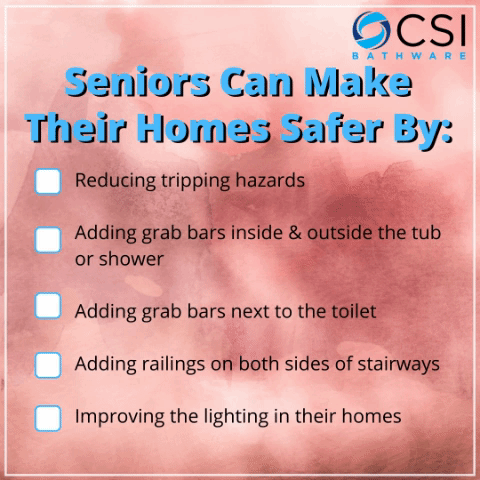 Bathroom safety products such as grab bars, shower seats, hand-held showers, and roll-in showers all serve to help keep your balance on slippery bathroom floors.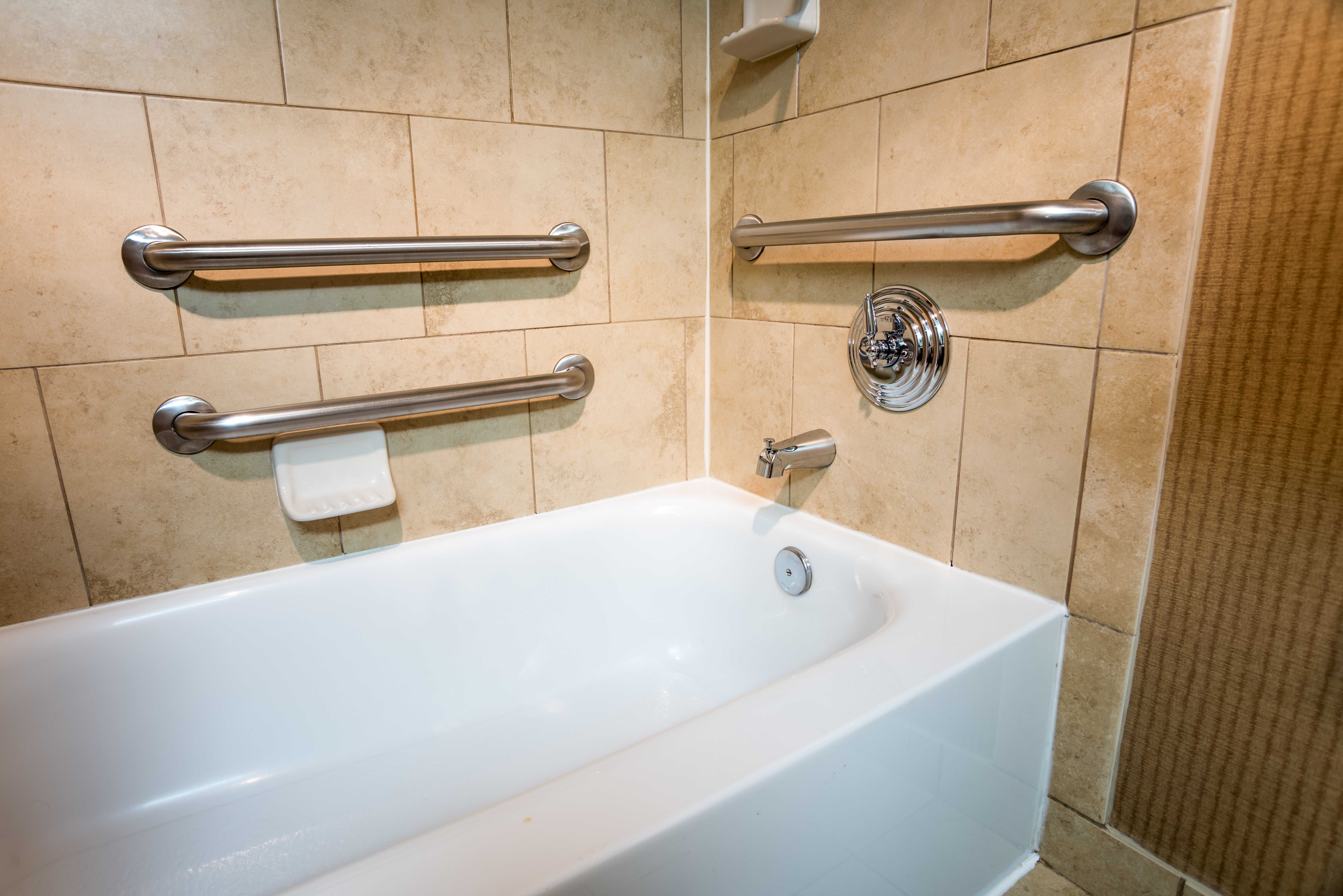 Bathroom shower benches allow you the option to sit down when you're feeling weak or if you are unable to stand for a period of time. The addition of bathroom grab bars also provides you with a safety mechanism to grab onto and provide balance on wet surfaces. You should install grab bars wherever extra support might be needed, such as in the bathroom and the shower. (Remember: a towel bar isn't designed to support body weight.) For wheelchair users, roll-in showers allow you to enter the shower without having to exit your wheelchair.
Understand your medical factors
It's important to understand your medical conditions as it relates to you or a loved one. There are many medical conditions that are shown to increase the risk of slips & falls.
Some medications to be aware of include: allergy medications, seizure medications, pain relievers, antidepressants, heart medications, sleep aids, and some cold & cough remedies.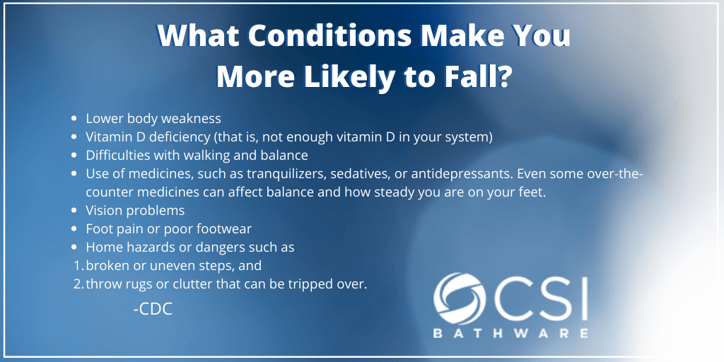 The number of medications you take also affects your risk. Taking four or more per day increases risk by nearly one-third—and 40 percent of Americans over age 65 take five to nine medications daily.
Improve strength, coordination, and mobility
Staying strong and healthy goes a long way towards minimizing your risk of slips & falls in the bathroom. Seniors striving to live at home for as long as they can should aim to partake in exercise activities at least 2-3 times a week to maintain their strength and coordination. Certain medical conditions however may require that you get approval from your doctor before beginning an exercise program. Diabetes for example, may present issues with your feet that can interfere with your balance.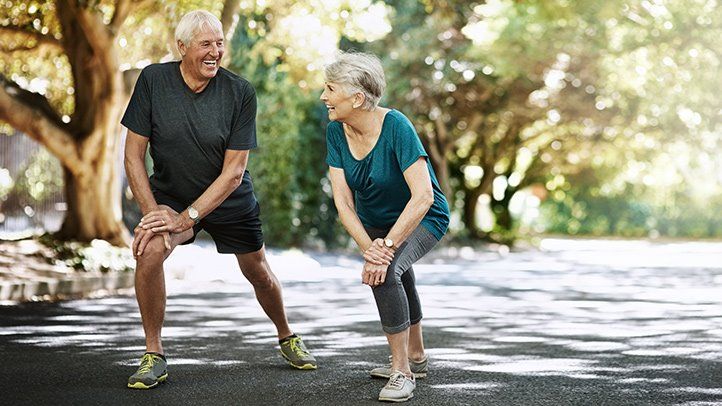 Working with a physical therapist can ensure you are training the proper muscle groups when exercising and that you are performing the exercises correctly to prevent unnecessary injuries.
Eliminate Clutter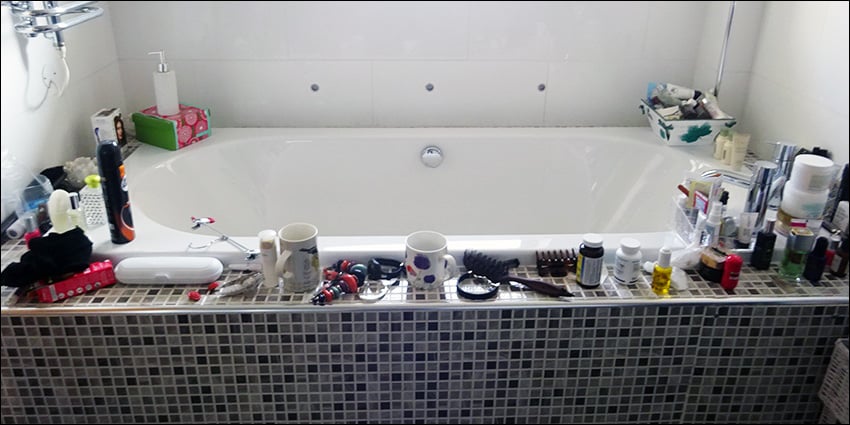 It should be pretty self-explanatory, but removing unnecessary clutter on the floors in your bathroom and other rooms in your home will minimize your risk of tripping & falling. There should also be a clear path to the shower without having to move around objects or furniture. Stray objects on the floor such as laundry, towels, baskets, shoes, and books should be removed and stored away. Lastly, electrical wires should be moved out of walkways or taped down.
Install proper lighting
Having a bathroom without proper lighting is a sure way to guarantee a slip or fall accident. You should evaluate whether the current lighting is too dim or too bright and make adjustments from there. The type of lighting is important as well - fluorescent, halogen, and overhead lighting are all viable options.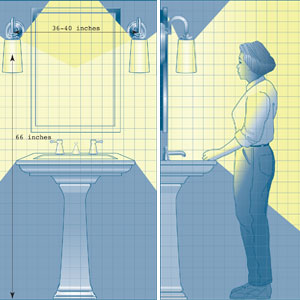 We hope this guide provided some insights on ways you can prepare your bathroom for aging in place and how to prevent slips & falls.
Be sure to get in touch with us via social media and sign up for our newsletter to stay up to date on more helpful content relating to ADA compliant bathware and aging in place.