If you're unfamiliar with the term aging in place it refers to someone who wants to stay in their home as long as possible. One way to plan for aging in place is to add backing board to a bathroom renovation. Adding a backer board in a shower remodel allows you to safely add grab bars later since the wall would already be anchored. Continue reading below to learn about the different types of backing boards and how they're used.
Wood Blocking
The most basic form of wall reinforcement is wood blocking. It is typically installed between the wall studs. Since most standards indicate a height of 33 inches to 36 inches for grab bars, install minimum 2-inch by 10-inch blocking centered at 36 inches above the rough sub-floor. This will allow for final installation within the prescribed range and still provide a minimum of 2 inches of framing above and below the mounting plate. With basic wood blocking, it is important to avoid mounting over the studs, since a fastener could penetrate at the joint itself and go between the stud and block.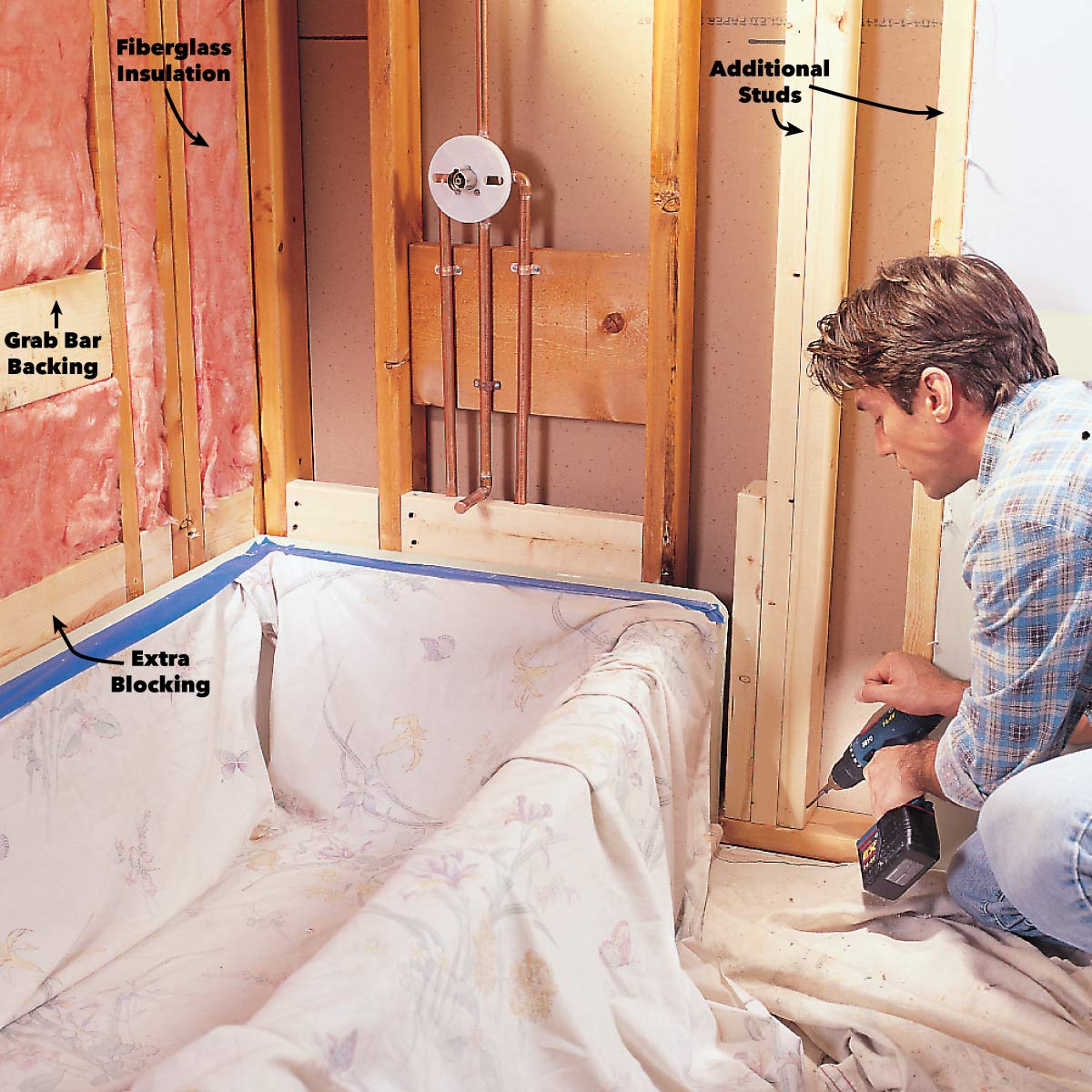 Let-in Blocking
Another option that enhances wall stability and reinforcement is to cut a notch in the studs that is 1 ½ inches deep and install a single continuous piece of 2-inch by 10-inch lumber in the notch. This method is referred to as let-in blocking. In contrast to the wood blocking method, which mounts blocks of wood between the studs, let-in blocking allows for installation of an accessory anywhere along the length of the wall at the height of the inserted 2-inch by 10-inch block since it is a solid piece of material without joints at the studs.
Plywood Reinforcement
Another option for reinforcement is to laminate or cover the entire wall with plywood, not oriented strand board (OSB), before finishing it with either drywall or cement tile backer. When used along with solid blocking, plywood enhances the wall reinforcement and offers further options for mounting accessibility products in the future.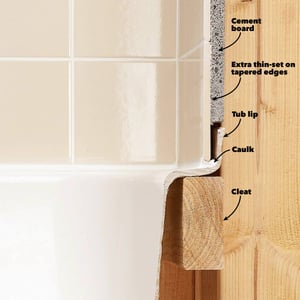 When installing the plywood, use construction adhesive and screws to laminate it to the wall framing. In new construction, the room can be enlarged by 1 inch overall to accommodate the addition of plywood. Future accessory installation in plywood-reinforced areas that do not have blocking can be done using a properly designed hallow-wall anchor system or device. Follow all instructions provided by the manufacturer.
Preparing now to age gracefully in your home can save you costly repairs or prevent a fall in the future. CSI Bathware always recommends that any grab bar or shower seat be installed in to some type of in-wall backing and by a licensed installer.
Be sure to get in touch with us via social media and sign up for our newsletter to stay up to date on more helpful content relating to ADA compliant bathware and aging in place.