While aging in place is commonly associated with boring traditional stainless steel bathroom fixtures commonly found in nursing homes, there are more options than you think when it comes to personalizing your bathroom with safety in mind. Continue reading below for some bathroom safety design inspiration you can use in your next bathroom remodel.
Install a decorative grab bar
Why settle for a boring stainless steel grab bar when there are countless options you can use to make your bathroom stand out? Take our Splash Series Peak Grab Bar pictured below for example. Its easy to see quality and beauty go hand in hand when the Peak bar is easy to install and meets ADA weight requirements. Featuring a gentle curve, concealed flanges and 7 finishes, the Peak bar complements any decor which is why it is an easy choice for any project.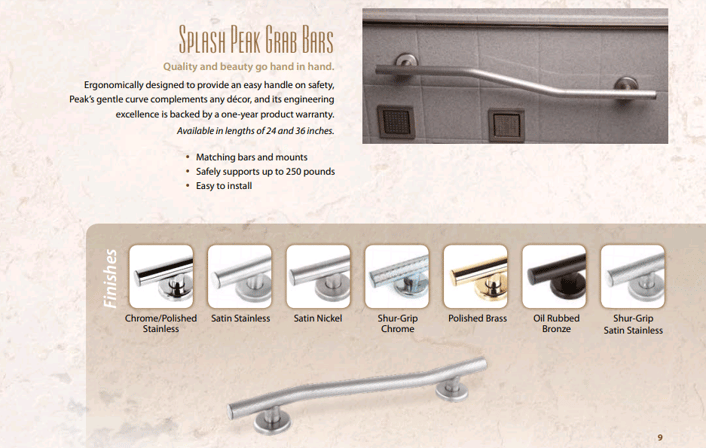 Grab bars don't have to be boring. There are countless styles and finishes of grab bars to choose from when designing your next bathroom remodel for aging in place. Try checking out our wide variety of grab bar styles available to you for some design inspiration you can use in your bathroom.
Consider a walk-in shower
Walk-in showers, or curb-less showers, are typically designed for seniors or those with mobility issues in mind. The design is built with a low to zero-threshold making it seamless for walking into. Furthermore, walk-in showers are often are designed with shower seats so one can shower while sitting. Since they're easy to clean, spacious, and typically include safety bars – any senior looking to renovate for aging in place can expect a walk-in shower to be a great addition to their bathroom remodel.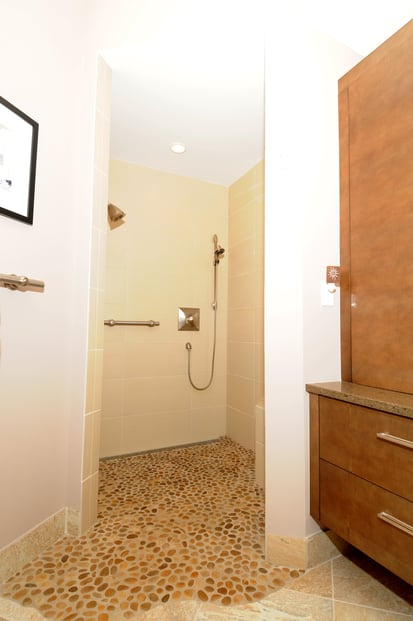 Install a unique shower seat
Ever wondered if there were other shower seat options than the traditional white seats you find in nursing homes or handicap restrooms? Try going with a wooden teak shower seat! The warm-to-the-touch teak material of our Seaport Shower Seat is finished with natural tung oil to showcase the warm colors of the wood grain while creating one of the longest-lasting, natural water-proof finishes.
The Seaport Shower Seat by GreatGrabz is elegant & spa-like, environmentally correct, durable, and requires less maintenance than most other shower seats. In addition, our Seaport Teak Seat features stainless steel legs that swing up out of the way when not in use. The Seaport Seat safely supports up to 750 pounds and is easy to install. It is the perfect complement to our Signature Series Horizon Teak Grab Bar.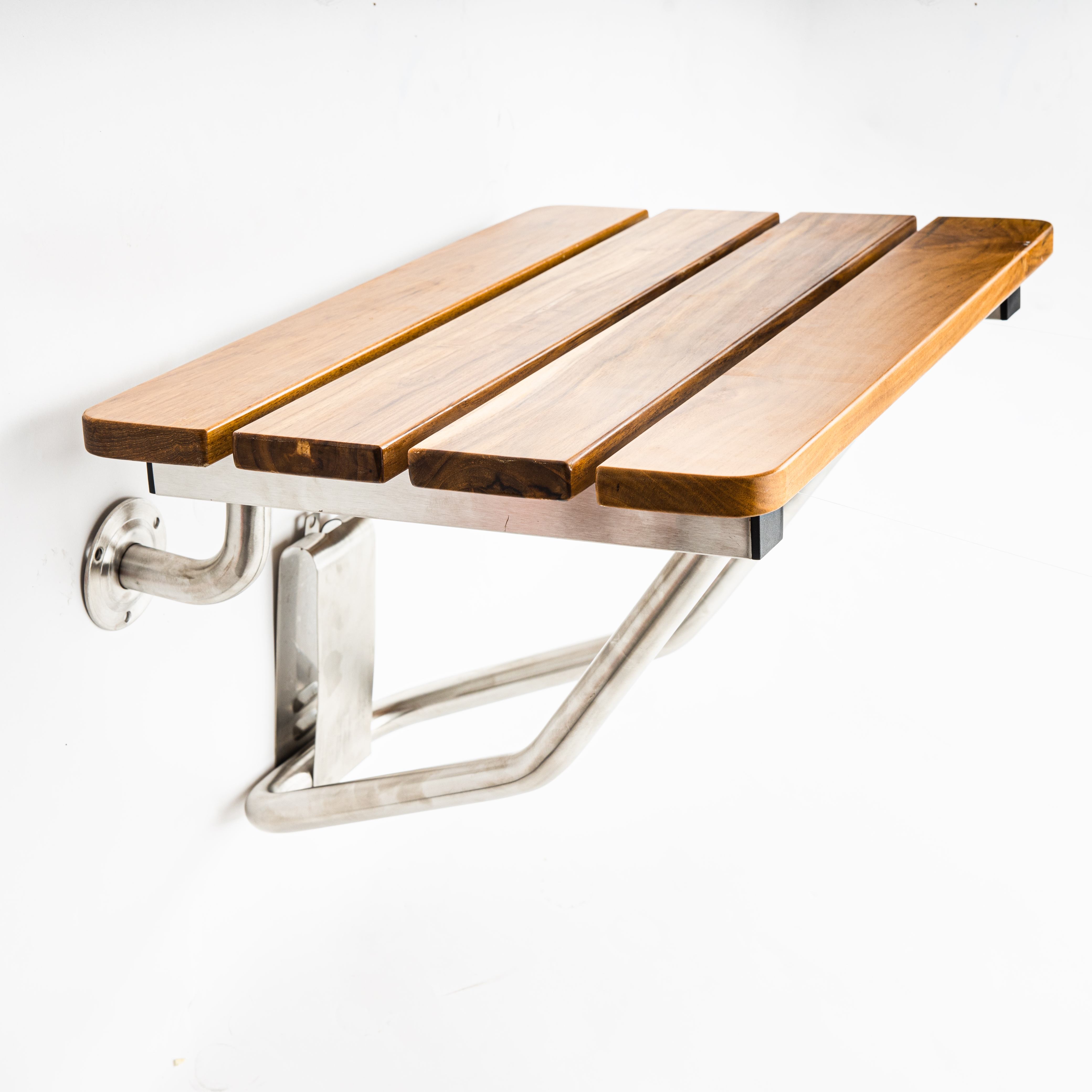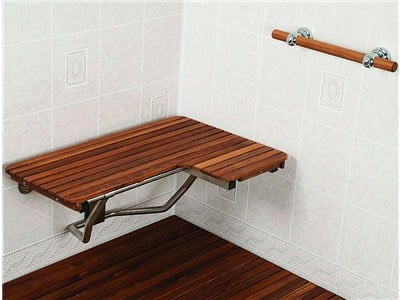 Match your grab bars with your wall tiles
Do you have a unique tile design in your bathroom? Try pairing one of our
Horizon Acrylic grab bars
to match your tiles! We offer a wide variety of colors and finishes so you don't have to worry about not having a style to match the color in your bathroom.
Our Signature Series Horizon Acrylic Grab Bar gives you the freedom to personalize your space with a unique grab bar. Combining the sophisticated look of optical-quality acrylic and interchangeable mounts with the ability to support 250 lbs allows the Horizon acrylic bar to offer a customized expression in luxury and safety. All in all, this grab bar makes an easy choice to add luxurious appeal to any remodeling project.
Check out how one of our customers used the Aquamarine color option for our Horizon Acrylic grab bar to match their blue tiled walls.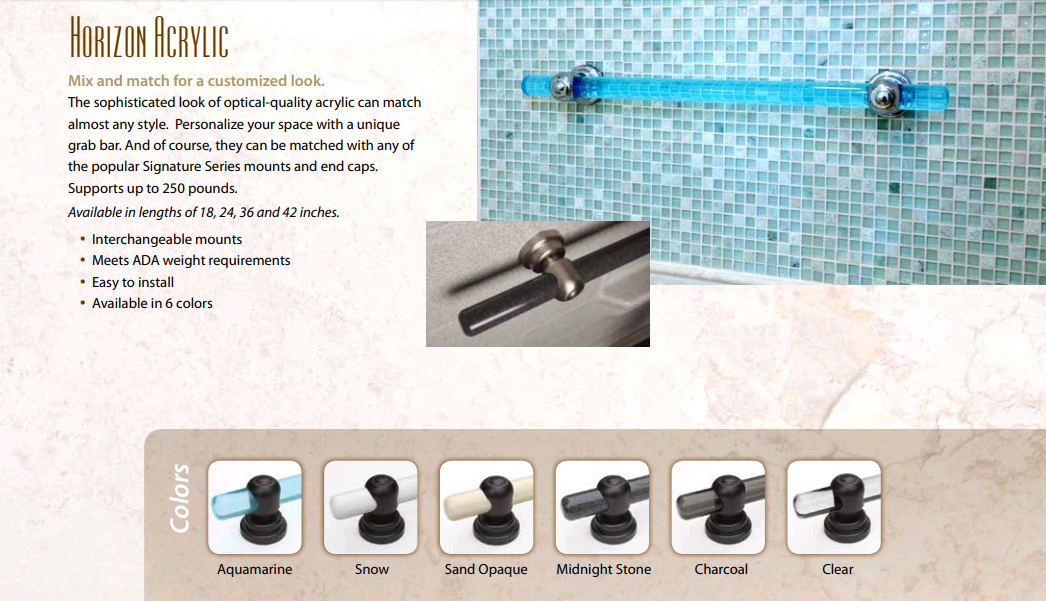 Look into matching bathroom hardware & finishes
With style and design being at the forefront of most home remodeling projects, its easier than ever to match all of the hardware finishes in the bathroom. The most popular finishes are the oil rubbed bronze and matte black. You can never go wrong with classic chrome or satin. Brushed brass seems to be making a comeback as week. No matter what your preferred finish, you can easily match your shower, sink and cabinet hardware with the wide array of options on the market. Or mix and match – the choice is yours!
Check out how one of our customers matched the Oil Rubbed Bronze color for our Horizon Metal Grab Bar with their shower kit below.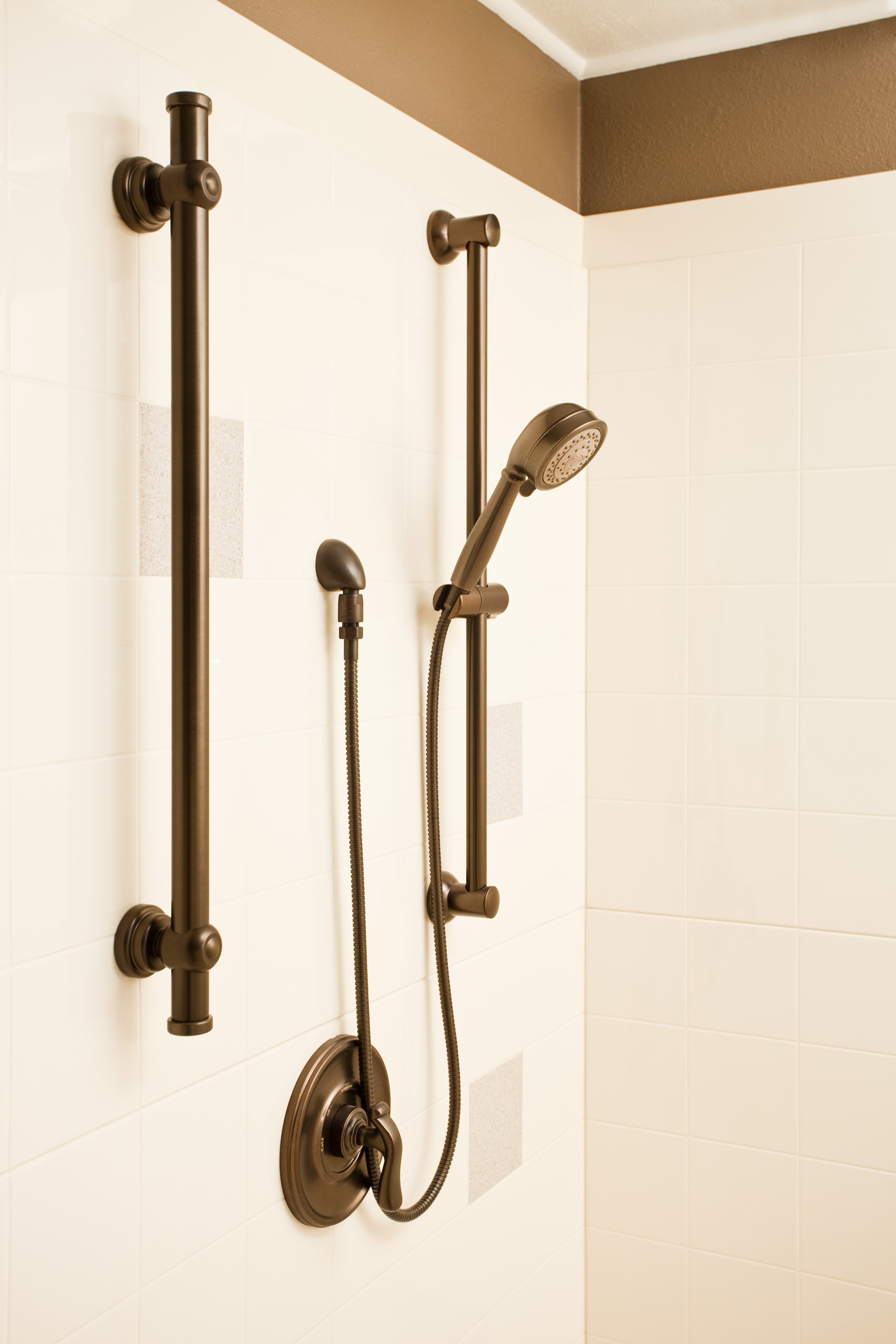 To learn more about aging in place design and to see the personalized bathroom grab bar styles we can offer you, contact GreatGrabz today.