Remodeling a bathroom is a lot of work, and nobody wants to have to update the design of their bathroom every couple years. Our blog below lists some ways you can renovate your bathroom that will stay in style for many years to come. Continue reading for our inside scoop where we discuss 10 Tips for a Timeless Bathroom Design.
Keep your tiles neutral
While replacing tiles in your bathroom may not be that big of deal financially, the process itself presents a lot of hassle. You have to remove any fixtures such as toilets and shower heads around the tiles as well as spend time cleaning up the dust after removal. With a neutral color pattern for your bathroom tiles, you don't have to worry about this as it is a safer option for a longer style lifespan. Yes, it may be more visually appealing for others to have bright and colorful tiles with varying designs, but you should consider the cost of maintenance on these tiles. Eventually, there will come a time when you will need to replace your tiles due to wear and tear. Having a neutral tile would not only make it easier for you to clean them, it also gives you more of a guarantee that its style would not be outdated for years to come.
Be bold with your paint
While the process of replacing tiles in your bathroom may not be so easy, re-painting a fixture in your bathroom is much easier. We would definitely encourage you to go bold with your paint options for your walls or vanity fixtures. If you happen to get tired of it a few years down the road, you can easily repaint it!
Utilize natural stone
Natural stone provides a level of elegance and sophistication you don't see in your everyday bathroom. If you have room in your budget, consider using natural stone to take the quality of your bathroom to the next level. This addition is unique because it will create a timeless feel in your shower space for many years to come. If you happen to be short on your budget, there are alternative options that will give you the same natural stone feel in your bathroom.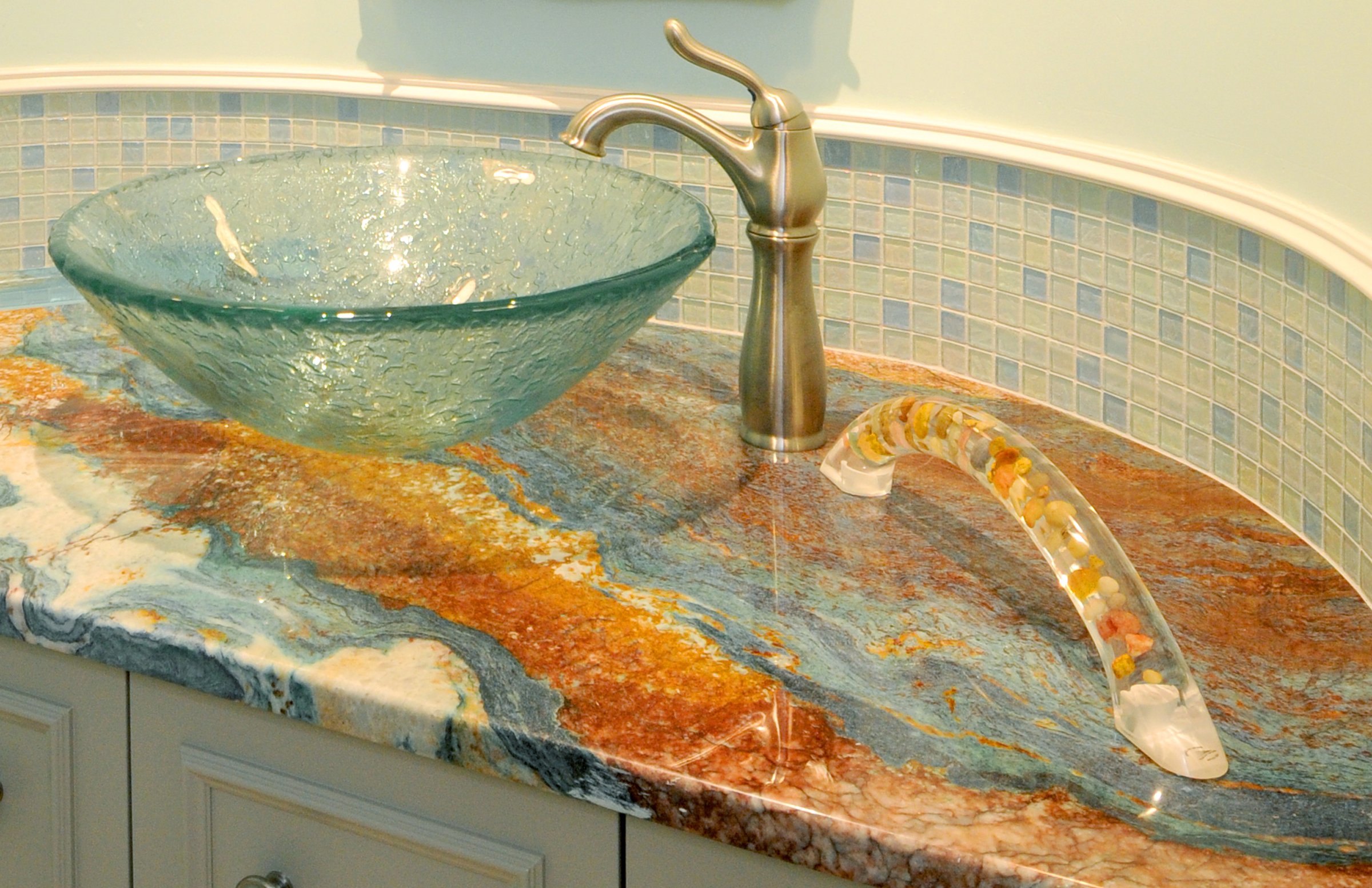 Use traditional fixture colors
Bathroom fixtures are not typically cheap to install. Bathroom sinks, faucets, or shower heads are much more difficult to replace than something like a shower curtain or rug. While there is a trend of brass and gold fixtures going around right now, traditional styles like polished nickel, matte black, or oil-rubbed bronze are a more timeless option. Consider going with a classic design that you won't have to worry about replacing in the near future due to them going out of style.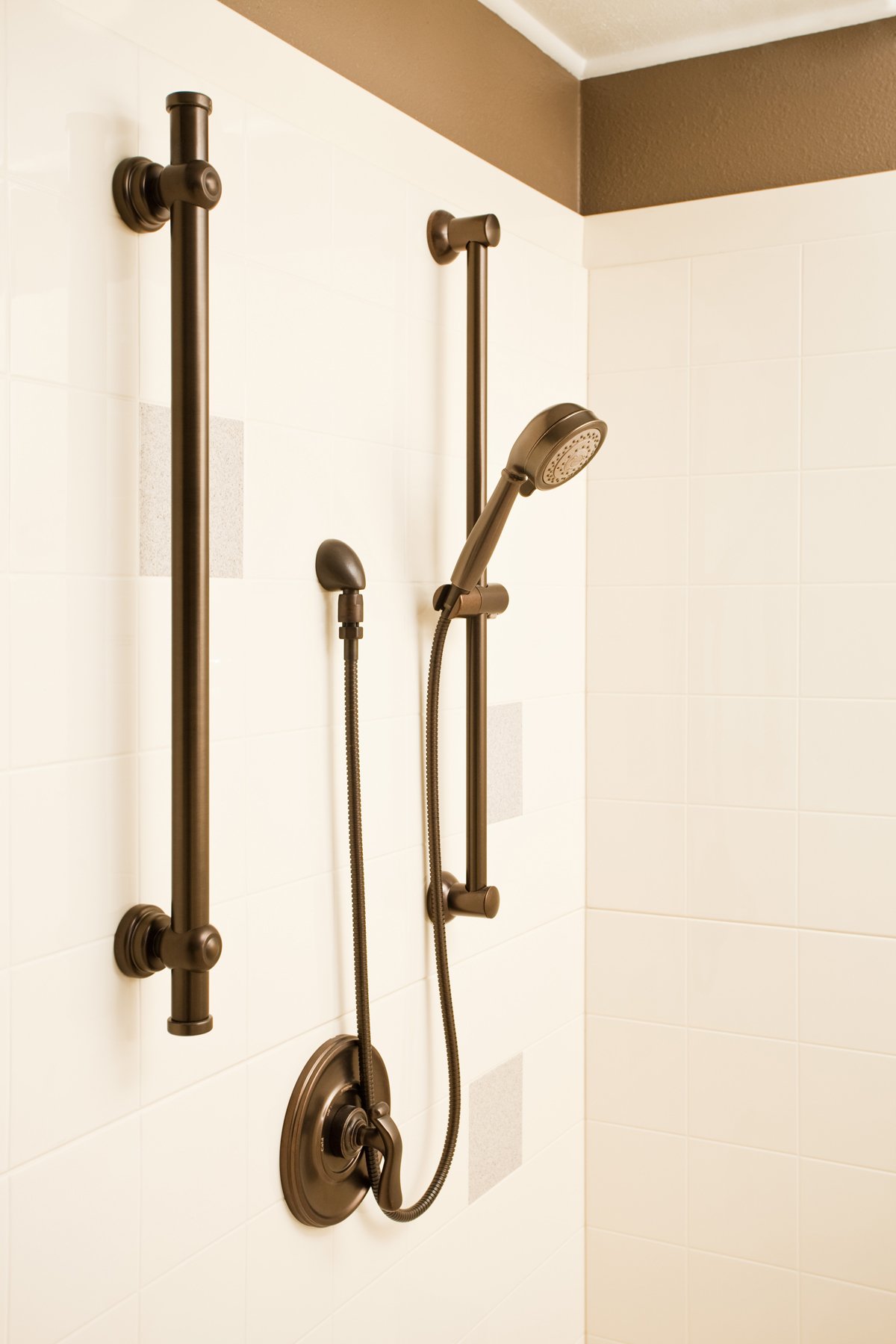 Upgrade to high-quality fixtures
Given that the cost of fixtures tends to be more costly than other aspects of the bathroom, you should invest in higher-end fixtures now to maintain the quality over a longer period of time. The better quality your bathroom fixtures are, the longer they will last. Remember that the whole goal of creating a timeless shower space is so that you won't have to worry about renovating your bathroom again in 5 years.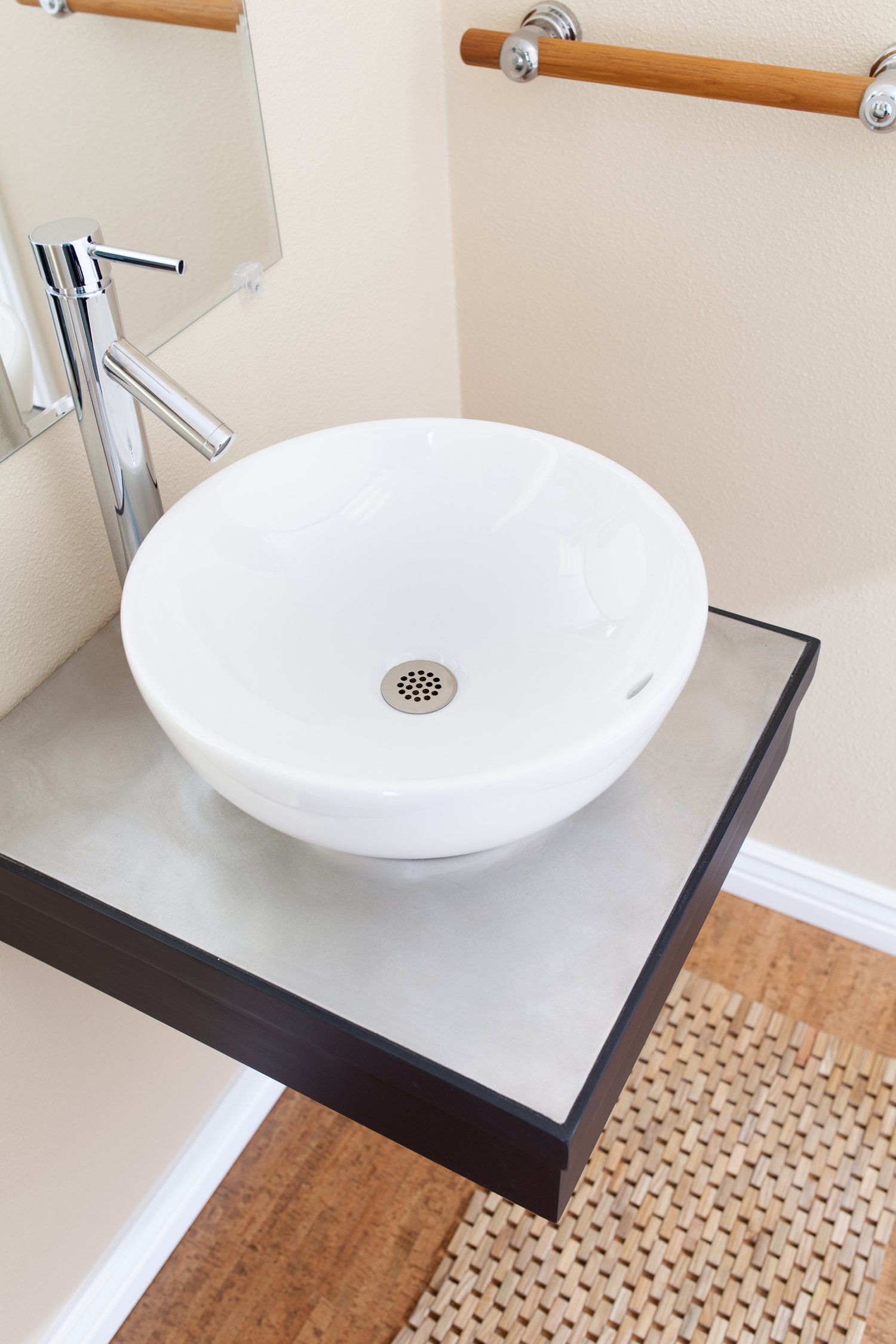 Leave plenty of counter space
Nobody wants a cluttered bathroom, which is why it's important to make sure the layout of your bathroom allows for plenty of counter space for all your bathroom products. You may think that wall-hanging shelves or a giant trough sink might be stylish now, but in order for your bathroom to withstand the test of time, you want to prioritize functionality.
Stay trendy with towels and shower curtains
While we've covered many reasons why you should go for a more timeless style with aspects of your bathroom such as fixtures and tiles, there are some parts of your bathroom that are more acceptable to replace as trends change. The easiest change you can make is simply to replace your towels and shower curtains. You can bring in trendy patterns and colors to match with the seasons, holidays, or any other trends that catch your interest. In addition, trendy textiles are much more cost-efficient to replace than more permanent features like bathroom tiles.
Incorporate contrast through texture
While having a balance of contrast in your bathroom is important, you may want to consider keeping the basics neutral so they won't be outdated in a few years. However, just because the coloring is neutral, doesn't mean it has to be boring. Incorporating texture can add a whole new perspective to your bathroom. Some examples include glossy tiles, polished marble, wooden teak, and more.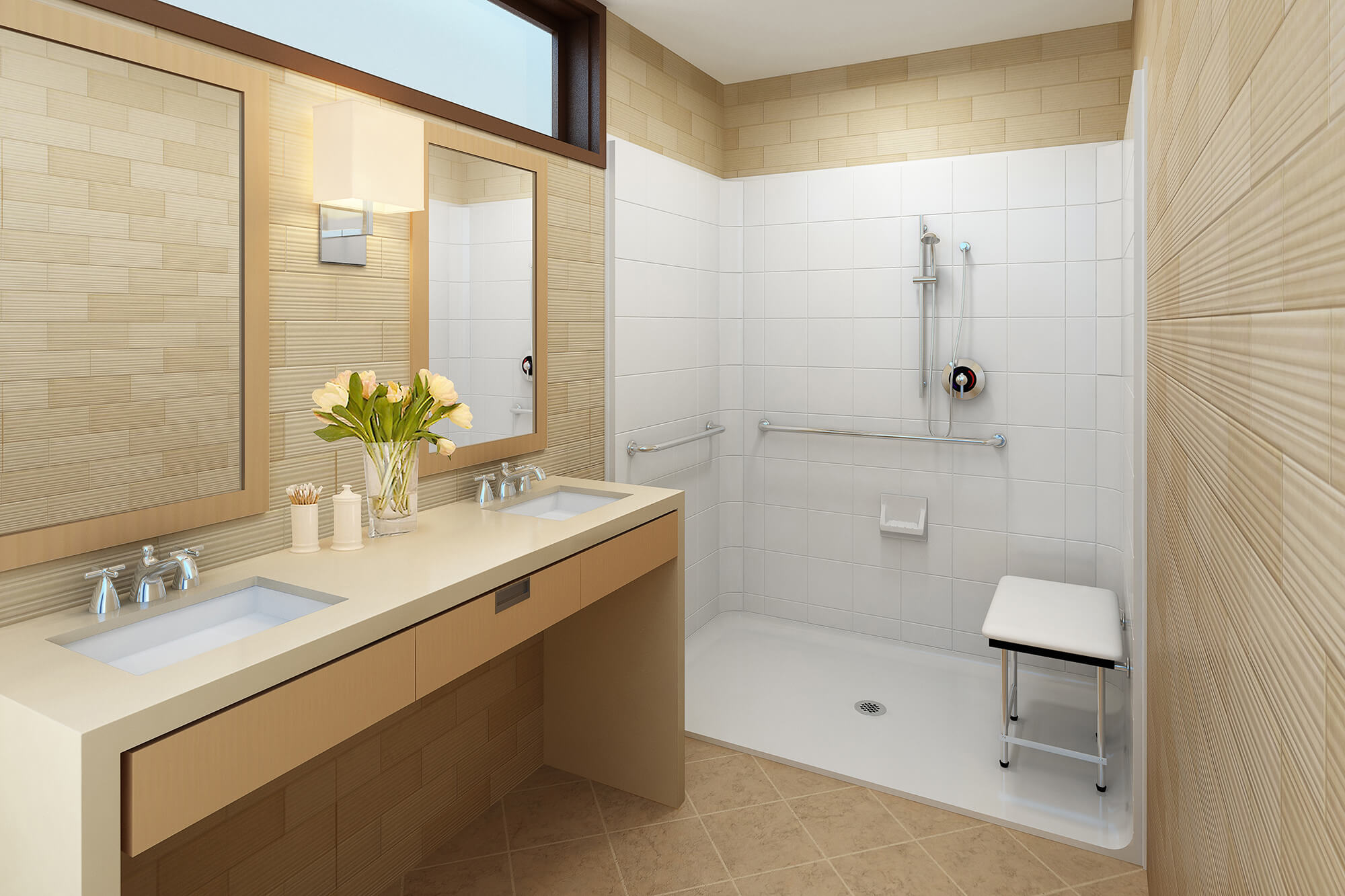 Add trending metals as (easily replaceable) hardware
While we advised against using trendy metals for your more permanent bathroom fixtures, some fixtures are more affordable and easier to install if you want to stay up-to-date with the latest bathroom trends. Certain light fixtures, bathroom grab bars, and cabinet handles are surprisingly affordable and simple to install. If trends such as brass and solid gold for these fixtures happen to go out of style in a few years, you can easily replace them in a short amount of time without spending an overwhelming amount of money.
Many homeowners nowadays are renovating their bathrooms for aging in place to keep their independence and prepare for the later years in life. If this is something you're considering, our Horizon line of bathroom grab bars can be switched out relatively easily without having to take anything off the wall. For example, you can use a metal or acrylic bathroom grab bar in the summer, and a wooden teak grab bar in the winter. These mounting fixtures stay attached to the wall which means you would just need to loosen the set screws, take one part out, and slide the other part in. Grab bars that are installed into the wall without mounting fixtures (while sturdier) tend to be harder to take off the wall since they need to have proper in wall backing.


Keep themes to accents
While having a particular theme to your bathroom may or may not be your thing, if you decide to give your bathroom one down the road it can easily be done without making any major renovations. Having a neutral, timeless bathroom means that changing the theme of your shower space can be as easy as replacing the shower curtains or towels to fit that theme. If you're looking for a subtle nautical feel like in the picture below, all you really need to do is replace your towels and shower curtains with ones that have a striped navy vanity.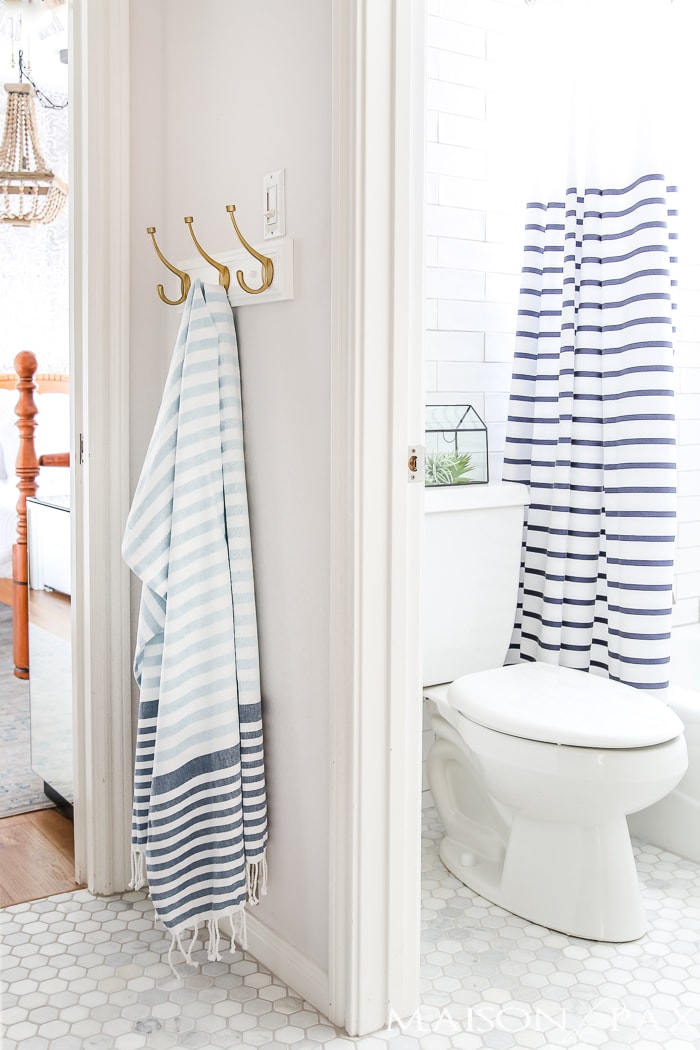 We hope you found our tips useful so that when you're ready to make renovations to your bathroom, you can do so in a way that doesn't require additional & more costly renovations 5 years later.
To learn more about aging in place design and to see the personalized bathroom grab bar styles we can offer you, contact Great Grabz today.