Aging in place isn't just an idea, it's a lifestyle. That's why when you're considering remodeling to an aging in place home, it's important to tailor the design to fit your personal preferences. The last thing you want is to remodel your living space just to give it the appearance of a nursing home.
When thinking about the challenges of aging in place, there are three critical "need" factors to consider:
Aging in Place Without Urgent Need
This segment includes those who want to age in their own home and aren't experiencing health issues yet. They tend to be more attracted to Universal Design features due to their usability, marketability and aesthetic appeal to all users. They also understand that they will eventually need these safety features in their homes, and they have decided to make the smart decision by remodeling early so they won't have to stress about it later on.
Aging In Place With Progressive Condition-Based Needs
People with progressive condition-based needs include customers who have chronic or progressive conditions that will require more urgent modifications or improvements to allow them to stay in their home. Those with back pains or a history of injuries may take the step to add safety rails and grab bars in their homes to prevent the risk of falling and seriously injuring themselves.
Aging in Place with Traumatic Change Needs
The traumatic change needs segment includes those who have experienced a traumatic or abrupt change that requires immediate accommodating modifications to allow them to remain in their home. People who have been in car accidents or suffered a stroke or other serious injury will need immediate modifications to their home to accommodate the change in their physical capabilities. Wheelchair users may need to add ramps in their homes or renovate their bathroom by adding a walk-in tub or shower to allow ease of access.
When you understand the segments that you are included in or are working with, it becomes easier to decide which design trends can be included in your renovation.
Some of our favorite trends in aging in place design right now are the oil rubbed bronze and matte black grab bar finishes that are available. These finishes can give any project that extra pizzazz and be an easy way to incorporate warmer tones into your space. Many other fixtures and accessories are available in oil rubbed bronze or matte black as well which makes this trend easy to follow and match with other fixtures in the bathroom.
Additionally, the contrast of the oil rubbed bronze or matte black fixtures and accessories allows for better visibility for those with diminishing vision. The shower controls, hand shower and grab bars in a tub or shower should be highly visible and not blend in with the tile so that all users can easily reach, use, or grab in the event of a slip or fall. Contrasting colors also allows those with diminished vision to orient themselves in a room. Design trends come and go, some lasting longer than others, so it is imperative to select the right trends to last a lifetime.
Be sure to read up on our next blog: Design Trends in Aging in Place (Part 2) to learn about more trends you can apply for your accessible bathroom.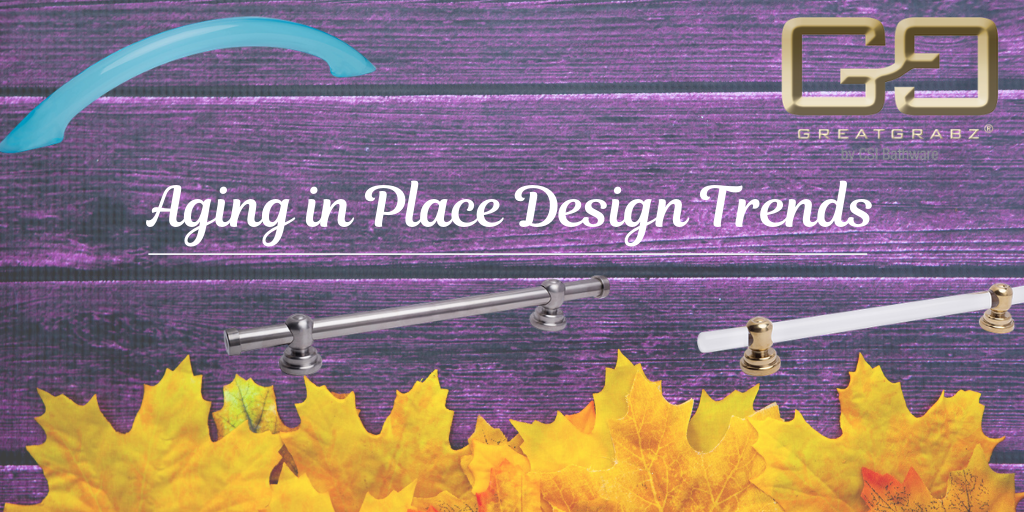 To learn more about aging in place design and to see the other personalized grab bar styles we offer for you, contact Great Grabz today.